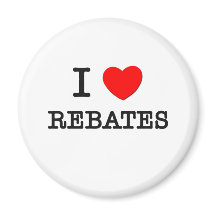 I know you are thinking, oh what she is going on about? But I really want to share with you a Canadian online shopping website that pays you Cash Back Rebates on online purchases. The website is called GreatCanadianRebates.ca. ( US folks, I don't know if you can participate, it doesn't say you can't though, anywhere I looked).
Why join? You can continue to shop online or become an online shopper at many of your favourite merchants. The expanding list of merchants includes: Dell, Expedia, Indigo, The Source, Travelocity, Sears, Home Depot and The Shopping Channel. Toys R US and Old Navy. Savings and rebates are only a few clicks away.
GreatCanadianRebates.ca is extremely easy to use. To get started, register by following the link below, shop as you currently do and your rebates will be automatically credited to your Cash Back Rebate account. GreatCanadianRebates.ca also has many great coupons, free shipping specials, and sales directly from the stores.
As a bonus for registering GreatCanadianRebates.ca will give you a Toonie!
That's right, $2.00 will automatically be deposited into your account to get you started, just
for registering.
It's super easy and if you are going to make the purchases anyways, why not get a little cash back each time??? Seriously, it's just that simple! And don't forget about sales they let you know about and money saving coupon codes you get by being a member.
Follow this link to get started!!!!
http://www.GreatCanadianRebates.ca/register/135621/
Happy Shopping and Saving!
P.S- And yes, there is a referral reward program. If you sign up through my referral, I do get a little bonus. The same goes for you, after you sign up, you can refer people as well and get a little reward as well! We all win, yay!!!!